Over the next five years, we are about to witness the world entirely disrupted by improvements in artificial intelligence (AI), machine learning, robots and increased automation.
Children today are growing up with AI assistants in their homes (Google Assistant, Siri and Alexa) — to the point that you might consider their mere presence an extension of co-parenting. As voice and facial recognition continue to evolve, machine learning algorithms are getting smarter. More and more workplaces and industries are being influenced by AI. Our society and workplaces we know it is transforming.
In the transportation sphere, Uber and Lyft are both working on self-driving technology.  The navigation software company Waze quietly released a new app called CarPool that converts its 50-plus million users into drivers and allows users to commute to work together for a fee.
The criminal justice arena has been disrupted by AI. Tech start-ups are using AI to automate legal work and advancements in facial recognition are making the fingerprint obsolete.  In 2019, AI will become real for medicine as the Government open's five AI medical centres as part of their drive to use AI to improve healthcare and treatments.
AI has the potential to offer $15.7 trillion to the global economy by 2030.  We are already utilising AI every day but may not realise it.  The computer algorithms that allow Netflix or Amazon to make purchasing suggestions are a normal part of life.  But sometimes, its hard not to feel a sense of awe when a machine that makes – a square and immobile box in the room – connects with you on an intimate level.  How did it know that?  In the coming years, people will be asking that question of their cars, phones, banking systems, and virtually every piece of technology with which they interact every day.
AI is expected to reshape most if not, all facets of life and the workplace.   Today, the current impact AI is having on our society and workplaces cannot be ignored or the future predictions.
We have curated the top articles covering the most important trends and key applications of AI in our lives and work to provide a further briefing on how they are shaping our world and have spurred new changes and trends of their own across our personal lives, economic and business landscape.
The AI landscape
AI IN UK INDUSTRY LANDSCAPE 2018
A Big Innovation Centre reports over a 1,000 AI companies in 35 AI hubs.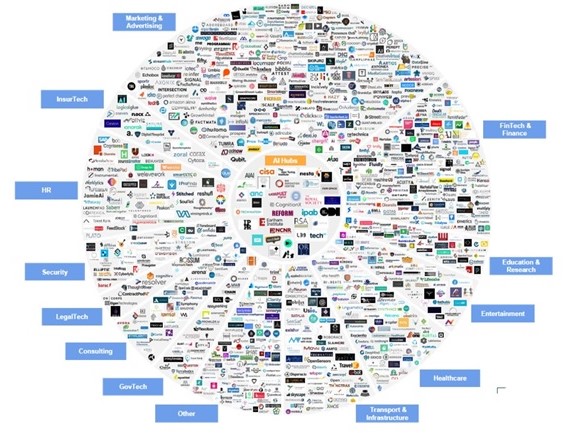 AN INTRODUCTION TO AI
According to a recent Forbes Insights survey of 300+ executives, 95% that AI will play an important role in their responsibilities in the near future.  The most-cited business benefits corporate leaders see from AI include:
40% increased productivity
28% reduced operating costs
21% improved speed to market
20% transformed business and operating needs
84% of those surveyed say AI is important to the future of their company and that its five times more important than other technology solutions such as the Internet of Things and cloud computing.  This is aligned with what the International Data Corporation predicates, which is by 2019, 40% of all digital transformation initiatives will use AI, and that by 2021, 75% of all enterprise initiatives will.
Read:  Forbes Insight – What's next in AI
GIVING AI A LITTLE COMMON SENSE
As we all go about our day using the internet, talking to brands, and interacting online, we don't adhere strictly to the writing guidelines of the Associated Press. We use a lot of slang, jargon, technical corporate terms, figurative language, and other communication shorthands — unstructured digital data that other humans understand easily, but that confounds Artificial Intelligence (AI).
Read: Giving AI a little common sense
PERSONALISATION WILL LEAD THE WAY DURING MOBILE APP DEVELOPMENT
Mobile applications are continually improving, and artificial intelligence (AI) is powering this evolution as more intuitive apps enter the market. With new apps being introduced to the market, products must stand apart from competitors by meeting the rising standards of consumers.
As more businesses witness the power of AI, more apps will come to market using artificial intelligence to increase engagement and enhance customer satisfaction. My Starbucks Barista, Amazon Go, and the TacoBot app are among the most famous examples of intelligent apps. These apps pay attention to the behaviour of users, predicts what they enjoy, and follows their commands by placing orders.
Read: How AI will change mobile app development 
ARTIFICIAL INTELLIGENCE TECHNOLOGIES THAT WILL DOMINATE IN 2018
Companies are boosting their enterprises with the following technologies in 2018 from natural language generation to speech recognition to virtual agents to machine learning platforms to decision management to many more.  Click on the article to see who the industry participants are and their offerings.
Read:  19 artificial intelligence technologies that will dominate in 2018
The world of applications (apps)
APPLICATIONS YOU HAVE MOST PROBABLY NEVER HEARD OF
You probably already know that some of the applications you use every day use artificial intelligence, such as Netflix, Spotify, and Siri, among others.  Or maybe you've heard of robots that play chess, poker and other board games better than any human could.  New uses and applications of AI are developed every day, bringing us closer to an unparalleled future.  A future that we've could've never imagined.
From an app that helps you create a recipe based on the ingredients you already have, to the fortune teller that will know before you, to photographs that become purchases, to a superhuman doctor. Marketing guru apps such as Adext to creating content applications such as hemingway, Articoolo, Wordsmith, Quill or Wibbitz, to companies such as Phrasee and Persado that can determine what e-mail subject, text for the email body, calls-to-action and sending times to help prompt the user.
The Hopper application saw a great opportunity in the travel industry – through predictive analytics driven by AI, the app is able to predict price patterns and alert travellers of the cheapest times to buy flights to their destinations.
BUSINESS APPS FOR AI AND MACHINE LEARNING
Understanding how artificial intelligence (AI) and machine learning (ML) can benefit your business may seem like a daunting task. But there is a myriad of applications for these technologies that you can implement to make your life easier.
Through AI and ML, your business will benefit as it becomes more efficient at its operations and eliminates those mundane tasks that seem to be slowing you down. Additionally, AI-powered tools and automated systems can help your company improve the use of its resources, with visible effects on your bottom line.
Click on the article link below to see the most recent developments in these areas:
Power infrastructure, solutions and services
Cybersecurity defence
Healthcare benefits
Recruiting automation
Intelligent conversational interfaces
Reduced energy use and costs
Predicting vulnerability exploitation
Becoming more customer-centric
Market prediction
Accelerated reading
Cross-layer resilience validation
Accounting and Fintech
Advanced billing rules
Understanding intentions and behaviours
Proposal review
Read: 15 business applications for AI and machine learning
TOP APPS FOR THE AI SOFTWARE
The market for AI software is exploding, with IBM and Google leading global suppliers, according to QY Research.
In 2017, the global software system market size for artificial intelligence (AI) was $2.65 billion. By the end of 2025, however, a new report from QY Research found that it is expected to skyrocket to $78 billion.
AI software is used mainly for voice processing, text processing, and image processing, the report found. In 2017, text processing was the most commonly used application, at 49.74%. This is expected to change, however, and image processing is expected to occupy more of a share as it improves, according to the release.
Read:  AI software market to hit $78b by 2025, top apps for technology
10 SUCCESSFUL APPLICATIONS OF AI IN BUSINESS
It can be overwhelming to find successful uses of AI in business. The pace of innovation in academia far exceeds the pace at which companies can process the new technology and evaluate its utility. To get started, here are ways that AI is being used today.  This article explores all aspects of image related AI and text related AI and applications.
Read:  10 successful applications of AI in business
TOP 9 MACHINE LEARNING APPLICATIONS IN REAL WORLD
Image recognition, speech recognition, medical diagnosis, statistical arbitrage, learning associations, classifications, prediction, extraction, regression are all types of machine learning applications.  Machine learning is an incredible breakthrough in the field of artificial intelligence.  While it does have some frightening implications when you think about it, these machine learning applications are several of the many ways this technology can improve lives.  Click on the article below to see what each app is capable of.
Read:  Top 9 machine learning applications in the real world
THE BEST MOBILE PHONE APPS
Digital Trends overhauled its picks for the best Android apps, whittling its robust selection down to a paltry 100. Some are new, and others have been standbys on this list for years. Regardless, they are certain that any and all of these apps will make your life easier, and help you get the most out of your mobile phone. The apps are listed by categories like Music, Travel, and so on.  They include: Soundcloud, Spotify, Bandcamp, Apple Music, NY Times, Flipboard etc
Read:  The best apps
THESE 4 APPS POWERED BY AI WILL STRENGTHEN YOUR BUSINESS
Leaders know they need technology to advance their businesses and boost their teams — but many of them are scared to use it.  The four apps powered by AI to strengthen your business include Sprio.ai – an AI-powered CRM, Pi – an AI-powered social marketing tool, Legal Robot – an AI legal advisor, Learn Chinese – an AI-powered language app. Click on the article link below for in-depth information.
Read:  Apps to strengthen your business
Marketing & Advertising
ARTIFICIAL EQ AND EMOTION AI AT WORK
Imagine a world in which machines interpret the emotional state of humans and adapt their behaviour to give appropriate responses to those emotions.
Well, artificial emotional intelligence, which is also known as emotion AI or affective computing, is already being used to develop systems and products that can recognize, interpret, process, and simulate human effects (with an "a," not an "e"). In psychology, an "effect" is a term used to describe the experience of feeling or emotion.
Read:  Artificial EQ and emotion AI at work for major brands
Insurtech
THREE TRENDS THAT MATTER
This article looks at three key ways that AI will drive savings for insurance carriers, brokers and policyholders, plugging into existing transformations within the insurance industry, these areas are:  behavioural policy pricing (usage-based insurance); customer experience & coverage personalisation (on-demand insurance) and faster, customised claims settlement (P2P insurance).  The article further looks at three current AI application trends in insurance/insurtech.
Read:  AI in insurance – three trends that matter
IMPACT OF AI ON THE FUTURE OF INSURANCE
The industry is on the verge of a seismic, tech-driven shift.  A focus on four areas can position carriers to embrace this change.  These four areas are the: explosion of data from connected devices, increased prevalence of physical robotics; increased prevalence of physical robotics; open source and data ecosystems and advances in cognitive technologies.
AI and its related technologies will have a seismic impact on all aspects of the insurance industry, from distribution to underwriting and pricing to claims.  Advanced technologies and data are already affecting distribution and underwriting, with policies being priced, purchased, and bound in near real time.  An in-depth examination at what insurance may look like in 2030 highlights dramatic changes across the insurance value chain.
Read:  Insurance 2030 – the impact of AI on the future of insurance
Human Resources
HOW AI IS TRANSFORMING HR DEPARTMENTS
AI technology will not put HR managers and staff out of work.  AI tech promises to transform HR departments, not to make them redundant.  AI technology promises to streamline this process by relying more on the analytical processing of huge amounts of data instead of on individual observations.
Read:  How AI is transforming HR departments 
11 WAYS AI CAN REVOLUTIONISE HUMAN RESOURCES
What a future with AI might look like. The answers all pointed to systems that were operating more smoothly and HR professionals getting a fighting chance at doing their jobs better instead of chasing a never-ending paper trail.
Read:  How AI is transforming HR departments 
Legaltech
AUTOMATING DIVORCE AND PREDICTING LEGAL OUTCOMES
AI-powered software improves the efficiency of document analysis for legal use and machines can review documents and flag them as relevant to a particular case. Once a certain type of document is denoted as relevant, machine learning algorithms can get to work to find other documents that are similarly relevant. Machines are much faster at sorting through documents than humans and can produce output and results that can be statistically validated.  Click on the link below to see how the legal sector is unfolding.
According to Deloitte, 100,000 legal roles will be automated by 2036.  They report that by 2020 law firms will be faced with a "tipping point" for a new talent strategy.
Read:  How AI and machine learning are transforming law firms and the sector  
Consulting
WILL THE MOST ELITE CONSULTANTS BE REPLACED BY AI
Over the next few years, artificial intelligence may exponentially change the way we all gather information, make decisions, and connect with stakeholders.   Already, leaders are starting to use artificial intelligence to automate mundane tasks such as calendar maintenance and making phone calls. But AI can also help support more complex decisions in key areas such as human resources, budgeting, marketing, capital allocation and even corporate strategy — long the bastion of bespoke consulting firms such as McKinsey, Bain, and BCG, and the major marketing agencies.
Read:  AI may soon replace consultants   
AI METHODOLOGY IN CONSULTING
Leading research bodies indicate that more than 50% and up to many as 84% of business and digital transformation projects fail to achieve intended outcomes (Forbes 2018).  Below explains how the Rialto AI powered decision making tools can reduce risks and accelerate and strengthen leadership and team capabilities to secure critical business transformation by optimising alignment.  Based on Harvard research and 250+ successful projects worldwide.
An AI methodology tool that ensures successful growth, transformation and competitiveness is the RAMC. Its methodology increases collaborative thinking and insights in relation to securing future business goals e.g., growth, organisation redesign, transformation, project profitability, operational efficiency / productivity, high performance culture shaping, automation of work, leadership capability building, improving the customer experience, innovation, shaping a new target operating mode. The methodology can apply to a variety of desired business goals.
The AI methodology delivers optimal stakeholder alignment, increased collaboration and solution finding especially in virtual and geographically dispersed teams: The tool:
Takes an x-ray of what is in the heads of stakeholders relevant to the goal/topic under consideration, assumptions, barriers and worries related to unintended consequences
Assists to refine goals, overcome barriers (research findings indicate that a typical team face 61 barriers on average in overcoming a significant business issue/challenge), reveals and overcomes assumptions and avoids unintended consequences
The methodology is focussed on improving the poor failure rate of projects and strategies conceived using traditional processes, business decision making and change projects.  For more information please contact Richard Chiumento at [email protected]
IN THE AGE OF CHEAP ANALYTICS AND ACCESSIBLE INFORMATION, THE MANAGEMENT CONSULTING INDUSTRY IS THREATENED
The role of the management consultant lives, primarily because there is still a knowledge gap for top executives. Where before, this gap was related to globalization, data and workforce management, today this gap consists of rapidly emerging technologies, data vulnerability and determining trusted sources of information. Particularly in an era of fake news, the reputation of management consulting firms is paramount: They are trusted sources of information without a political agenda.
While the corporate landscape has changed, the need for outside expertise has not, even in the age of AI. In fact, in many ways the need for management consultants has grown as AI has become more prevalent.
Read:  Can AI give better advice than management consultants?   
Govtech
HOW AI COULD TRANSFORM GOVERNMENTS
Cognitive technologies have the potential to revolutionise the public sector and save billions of dollars.  AI already helps run government, with cognitive applications doing everything from reducing backlogs and cutting costs to handling tasks we can't easily do on our own, such as predicting fraudulent transactions and identifying criminal suspects via facial recognition. Indeed, while we expect AI-based technology in the years ahead to fundamentally transform how public-sector employees get work done—eliminating some jobs, redesigning countless others, and even creating entirely new professions—it's already changing the nature of many jobs and revolutionizing facets of government operations.  Click on the link to read an in-depth review on AI's impact.
Read:  Deloitte's how AI could transform government
THE GOVERNMENT AI PROJECT HAS ALREADY BEGUN
Public sector bodes around the world are already reaping the rewards of investing in AI technology.   25 European countries have signed a Declaration of Co-operation on the most important issues raised by AI. Most recently, the House of Lords has published its view on how the UK can be best placed to take advantage of AI.  Click on the link below to see the areas from education to security are being impacted by AI.  Read:  The government AI project has already begun
Transport & Infrastructure
CONSTRUCTION TECHNOLOGY'S NEXT FRONTIER
Engineering and construction is behind the curve in implementing AI solutions.  Based on extensive research, McKinsey surveyed applications and algorithms to help bridge the technology gap.   The engineering and construction sector is worth more than $10 trillion a year.  Click on the link below to see give AI-powered applications from other industries transferrable to construction.
Read:  AI – construction technology's next frontier
FROM DRIVERLESS TRAINS TO SMART TRACKS
With massive break throughs in smart technologies being reported every month, it won't be long until our transport industries are dominated by AI.  Click on the link below to see some of the ways AI is changing the face of transport and what we can expect in the near future.
Read:  25 ways AI can revolutionise transportation
Healthcare
FROM VIRTUAL NURSES TO DRUG DISCOVERY
The number of start-ups entering the healthcare AI space has increased in recent years, with over 50 companies raising their first equity rounds since January 2015. Deals to healthcare-focused AI start-ups went up from less than 20 in 2012 to nearly 70 in 2016. Last year also saw two new unicorns emerge in the space: China-based iCarbonX and oncology-focused Flatiron Health.
Over 100 companies that are applying machine learning algorithms and predictive analytics to reduce drug discovery times, provide virtual assistance to patients, and diagnose ailments by processing medical images, among other things.
Read:  106 AI start-ups in healthcare
WHAT DOCTOR?
Health matters.  It matters to each of us as individuals and to society as a whole.  It lies in the heart of our economic, political, social and environmental prosperity and is one of the largest industries in the world.   Modern health can
At the heart of this report is the emergence and increasing use of AI and robotics within and throughout this new health ecosystem.  Click on the link below
Read:  PWC's Why AI and robotics will define new health 
HOW AI IS USED IN HEALTHCARE
When it comes to our health, especially in matters of life and death, the promise of artificial intelligence (AI) to improve outcomes is very intriguing. While there is still much to overcome to achieve AI-dependent health care, most notably data privacy concerns and fears of mismanaged care due to machine error and lack of human oversight, there is sufficient potential that governments, tech companies, and healthcare providers are willing to invest and test out AI-powered tools and solutions.   The link below reports five AI advances within healthcare that appear to have the most potential.
Read:  Five powerful real – world examples that show the latest advances 
Entertainment
MAKING MAGIC WITHIN M&E
AI, is increasingly serving as an engine that drives richer, more realistic experiences in media and entertainment. From video games to movies and more.
Today, we have more data and more storage than ever before. We have more compute power than ever before. And we have ever-smarter tools for machine learning and deep learning. These trends open the door to the widespread use of AI to drive media and entertainment world to new heights — and the industry is seizing the day.  Click on the link below to see the advancements of AI within sports, video games and movies and how it is affecting the sector.
Read:  Making magic in M&E with AI 
AI CRUCIAL FOR TODAY'S M&E INDUSTRIES
For industries based on human creativity and emotion, artificial intelligence is playing an increasingly important role in the music and entertainment businesses. Curation and recommendation is key and its all algorithmic.
Read:  Why AI is crucial for today's M&E industries
HOW AI IS CHANGING THE M&E INDUSTRY
The M&E landscape is changing. From the creative process behind the scenes, to content delivery and audience engagement, AI is having a profound effect on the industry.  Image a future where a computer-generated movie characters blend in seamlessly with their human counterparts. Click on the link below to download the report from HPC or read the full article.
Read:  How AI is changing the M&E industry
Education & Research
HOW IS AI USED IN EDUCATION?
AI and machine learning that is beginning to alter education tools and institutions and changing what the future might look like in education.  It is expected that AI in US education will grow by 47.5% from 201702021.  The critical presence of teachers is irreplaceable, there will be many changes to a teacher's job and to educational best practices.
Read:  Real world examples of today and a peek into the future
WHEN AI MARKS OUR CHILDREN'S HOMEWORK
Nesta have done research and categorised AI applications into three categories:
Learning-facing applications:

Curate and stagger content
Automate feedback
Assess continuously
Facilitate collaboration
Educator-facing applications:

Automate assessment
Automate feedback
Facilitate alternative pedagogy
Detect plagiarism
Act as a 'Virtual Teaching Assistant'
System-Facing applications:

Identify best teaching practice
Understand intelligence in the 4IR
Manage admissions
School inspection
Although relatively young, these applications have great potential to help address some of our education system's most persistent and stubborn problems.  Click on the link below for more information.
Read:  Exploring the future of AI in education
Fintech & Finance
AI AND ML IN FINTECH
The five areas where AI and ML are calling the shots in banking and fintech:
Customer service refined: chatbots and AI interfaces like Cleo, Eno and Wells Fargo Bot interact with customers and answer queries. It has been predicted that the finance sector can leverage AI technology to cut 22% of operating costs totalling a $1 trillion.
Faster and more reliable credit scores
Trading and money management: Generative Adversarial networks are perceived as a big future technology in trading
Regulatory compliance
Security and fraud-busting
Read:  Five areas which AI will change for good  
AI HELPING CUSTOMERS MANAGE THEIR FINANCES
While many companies struggle to figure out what to do with AI, a few are emerging as leaders in deploying it, with only a handful succeeding in incorporating AI in the sensitive area of customer relations. The Royal Bank of Canada (RBC) and Israel Discount Bank, using an AI platform from Personetics, are premier examples of how to do AI right, right now.  RBC is focusing its use of AI on "solving real customer problems—and the number one source of anxiety for Canadians is managing their finances".
In a Boston Consulting Group and MIT Sloan Management Review they reported that only one in 20 companies has extensively incorporated AI in offerings or processes and less than 39% of all companies have an AI strategy in place.
Read:  These banks are using AI to help their customers manage their finances
AI HELPING CUSTOMERS MANAGE THEIR FINANCES
The importance of innovation and developing new solutions that take advantage of data, advanced analytics, digital technologies and new delivery platforms has never been more important.  Organisations are being innovative in targeting, expanding services, reconfiguring delivery channels, delivering proactive advice, integrating payments and applying blockchain technology.
Efforts will only increase in 2019, as global financial and tech giants revolutionise the financial service arena.  As part of these mega-trends, banks will also experiment with new mobile applications and voice-enabled gadgets to enhance both delivery and contextual personalisation.  The consumer will be front and centre. As technologies continue to evolve, the banking sector will continue to accelerate its investments.
The five innovative trends that will define banking in 2019 include: serving a segment of one, expansion of open banking, commitment to physical delivery, AI-driven predictive banking, payments everywhere. Click on the link below on in-depth information on the five innovative trends.
Read:  Five innovation trends that will define banking in 2019
AI HELPING CUSTOMERS MANAGE THEIR FINANCES
Artificial Intelligence – specifically machine learning and deep learning – was everywhere in 2018 and don't expect the hype to die down over the next 12 months.  The jury's still out on whether this will lead to a glorious utopia, with humans free to spend their lives following more meaningful pursuits, rather than on those which economic necessity dictates they dedicate their time, or to widespread unemployment and social unrest. Click on the link below to see the five areas of AI predictions.
Read:  Five important AI predictions for 2019 everyone should read.
Search
Everything you need to know about Digital Transformation
Subscribe
The best articles, news and events direct to your inbox