Ionology
Supplier Directory
Ionology
8 Ormeau Business Park,8 Cromac Avenue,Belfast,BT7 2JA,Northern Ireland
+44 28 9045 5911
Contributor
Employees:50
Company Size:Small
Year founded:1999
AboutIonology
Founded by Professor Niall McKeown; Digital Transformation Strategist, Author, Lecturer, Keynote Speaker, & Creator of Ionology's Digital Transformation Frameworks.
We teach the most practical, data-driven approach to digital transformation & AI.
Mindset | Frameworks | Case Studies | Experiments
We've invented the world's most advanced, data-driven digital transformation framework
Our methods are used worldwide
Our framework is taught at leading entrepreneurship Universities
Published authors of a digital transformation leadership book
We have a global network of trained partners
20 years of successfully delivering digital consulting and coaching
We rapidly create the 'digital mindset'
We help you create a culture of digital innovation and the digital mindset
We provide the transformation lubricant between digital business strategy, analytics,  innovation and commercial success

We deliver advanced career conversion courses for business and technology consulting professionals – see some testimonials of our recent course graduates.
Just some of the courses we do.
Are you a consultancy business looking for a competitive edge in digital transformation? 
Learn how to pitch, win and deliver successful digital transformation initiatives. Join a growing network of digital transformation consultants using a data driven approach to engage and guide new customers on their digital transformation journey.
Check out our Executive Development Course too!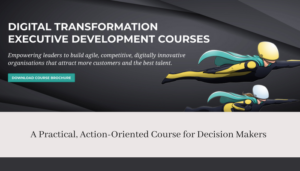 Recent Customers for whom we have delivered digital transformation leadership courses include: 
Infosys
EXL
Bayer
Sber Bank
KSA Ministry of Housing
KSA Ministry of Finance
Allianz
Liberty IT
COTY
ARUP
PWC
ComTrade
Trend Micro
Trinity College
Canada Life
Bank of Ireland
Energia
Specialisms
Digital Transformation Training
Recent articles by authors fromIonology
Service Areas

Strategy & Innovation
Service Types

Services
Training